Trad
'Even if Putin Dies, They Will Still Be Deadly': Priest on Russia
A French priest recognized for his human rights work is warning that Ukraine and Russia will continue to see lingering animosity toward each other—even if Russian President Vladimir Putin were to die.
Father Patrick Desbois made the remarks in a wide-ranging interview with Ukrainska Pravda published on Wednesday. Desbois described ongoing obstacles in holding alleged war criminals accountable and other challenges that will survive the conflict amid Russia's four-month-old invasion of Ukraine.
A French Roman Catholic priest, Desbois has been recognized internationally for his work documenting the Holocaust and identifying the mass burial sites of Jews, Roma and others killed across Eastern Europe by Nazis during World War II, according to the news organization. Desbois is now in Ukraine collecting evidence from victims of alleged Russian war crimes.
Speaking to Ukrainska Pravda, Desbois said that "hatred cannot be avoided. They came to Ukraine, killed children, raped women, looted, destroyed everything, how can you not hate them after that?"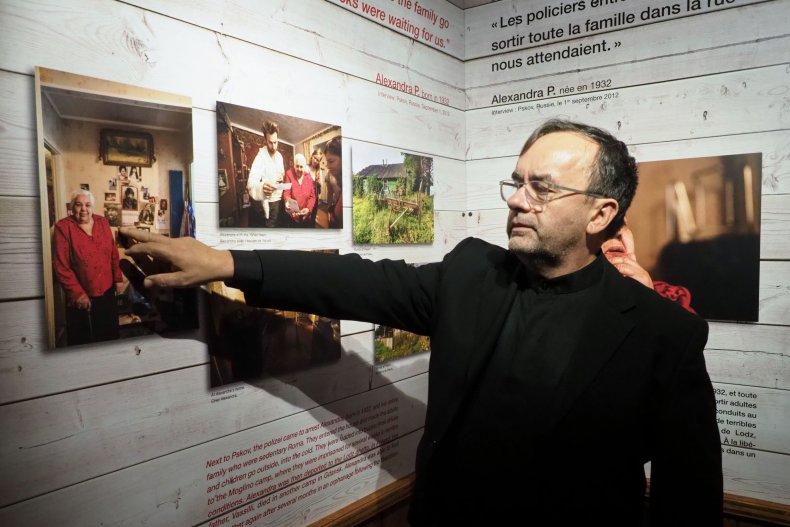 Desbois explained that hatred has motivated Ukrainians to fight against Russia. But he advised caution.
"Hatred should teach you to be careful," he said, according to Ukrainska Pravda. "You have to understand that even if Putin dies, they will still be deadly. It is your great failure that you have such neighbors."
Since launching its invasion of Ukraine in February, Russia has been accused by Ukraine as well as its Western allies of attacking civilians in violation of international human rights standards. Amnesty International in May documented unlawful airstrikes and extrajudicial killings by Russian forces.
Over the objection of Russia, the International Criminal Court (ICC) has launched an independent investigation into an alleged massacre in the Ukrainian city of Bucha.
Desbois announced in March that he was launching an investigation into alleged Russian war crimes in Ukraine, according to the Interfax-Ukraine news agency. The investigation was supported by Ukraine's Babyn Yar Holocaust Memorial Center and the Yahad-In Unum, a non-government organization Desbois founded with the aim of presenting evidence to the ICC, the news agency reports.
Karim Khan, a prosecutor with ICC, told PBS News Hour on Wednesday that the investigation was still in its early stages. He said the ICC is looking into allegations "regarding the unlawful transfer of civilians, and children in particular." The prosecutor also called for a dose of realism in its effort.
"The ICC has been here for 20 years," he said. "It's been historically under-resourced. It has a clear jurisdiction. And there are some perhaps unforeseen consequences or difficulties by creating other mechanisms."
Desbois previously collected evidence of human rights violations by the Islamic State against Yazidis, an ethnic and religious minority in Iraq. Speaking to Ukrainska Pravda, he said women who were sexually assaulted and enslaved by Islamic militants were outspoken about their experiences. He pointed to how Nadezhda Murad, a Yazidi victimized by militants, wrote a book and won the Nobel Peace Prize for her activism.
But Desbois worries Ukrainian women won't be so outspoken.
"In the Ukrainian tradition, everything is different—I'm afraid that Ukrainian women will not talk about it," he said. "And this is a problem."
In the interview, Desbois also spoke of a large moral "gray area" in Ukraine, hearing from Ukrainians who said Russians gave them food or that they do business with the occupying power. He said Putin counts on the gray area and worried that waning support for Ukraine could work in the Russian leader's favor.
"However, fatigue from Ukraine is not felt in the world today," said Desbois. "There was a great mobilization, the Ukrainian flag everywhere. There has been no such mobilization in the West since the Vietnam War. But we will lose it if we do not keep reminding ourselves of the civilian casualties."
Newsweek reached out to the ICC for additional comment.
Cet article est traduit automatiquement. N'hésitez pas à nous signaler s'il y a des erreurs.