Trad
Man Trolls Company Insisting He Pay 10¢ Phone Charge, Delighting Internet
A man was required to pay 10 cents after using his company phone, but how he made that payment delighted readers of his viral Reddit post, which amassed more than 11,000 votes.
Shared by u/brother_p to the Reddit forum "Malicious Compliance," the man said that the incident took place before phone plans allowed unlimited calling plans.
He was expected to abide by the rules put in place for having a work phone, which included no texting, limited long-distance calls and no camera use.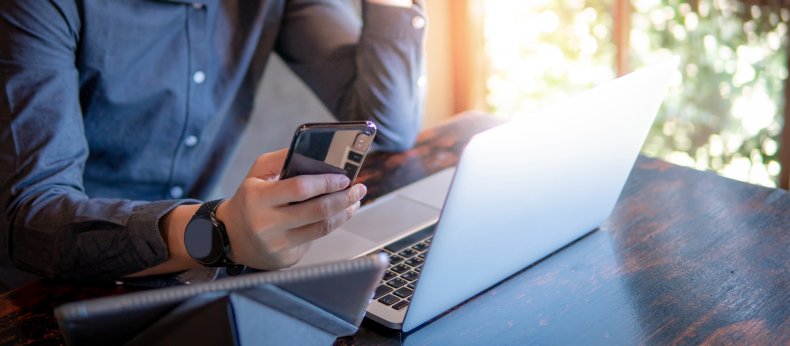 According to Indeed, there are a few reasons companies issue a cellphone to employees. Some of the benefits associated with it include workplace consistency, saving money and an increase in employee availability.
Offering a cellphone may save an employer money because they will not be expected to reimburse the employee with any added costs with their personal plan.
u/brother_p wrote the exception for a long-distance phone call was reserved for travel.
"In my job, I rarely would have to travel to a different calling area but if I did I was permitted one long-distance call per day to call home. That's it," he wrote.
On one trip, he called his family and spoke to his children before grabbing dinner, doing some work and going to bed.
The next day of his conference, u/brother_p said he received a call from his home office that dropped. However, he called the office back and later called his family to leave a message.
"At the end of the month I got a call from Finance," u/brother_p wrote.
He said he was told there was an unauthorized long-distance phone call, noting the calls placed to his office and his home.
It was then that u/brother_p was asked how he planned to reimburse the company for the phone call, which amounted to 10 cents.
"I thought I was being punked," he wrote. "Seriously. I sat in stunned silence for a few moments."
u/brother_p then told the supervisor he would pay the company directly. He took out two nickels, taped them to a sheet of paper and wrote that it was for the phone charge. He then put them in an envelope, which was left in an outgoing mail tray.
Just a few days after he submitted the payment, u/brother_p said he received a call from the comptroller and learned the supervisor complained about him.
"I explained the situation, told her the supervisor had insisted that I pay the $0.10 charge and I complied," u/brother_p wrote. "She laughed out loud. The paper, envelope and postage had cost the company more than what they recovered."
From then on, calls that cost more than $10 needed to be reimbursed by employees.
Redditor Reactions
Fellow Reddit users were thrilled by u/brother_p's tactic of paying the charge.
"You just gave everyone in that company greater flexibility with phone calls," one Reddit user wrote.
"For 10 cents plus company-paid postage," another commented. "A fantastic [return on investment]."
A Redditor joked that u/brother_p should have written a check for 11 cents.
"The worst thing is the person who griped about the $0.10 probably wouldn't have cared, but got chewed out for NOT caring some time in the past," a comment read.
Newsweek reached out to u/brother_p for further comment.
Many others have taken their stories to the popular "Malicious Compliance" forum.
A woman shared a post in which she said her boss made numerous comments about what she wore and challenged her to file a lawsuit against him, which she ultimately did.
One teenager received praise from other Redditors after he revealed how he managed to get out of getting a job, while another post discussed how a job applicant sued a company he interviewed with for fraud.
Cet article est traduit automatiquement. N'hésitez pas à nous signaler s'il y a des erreurs.