Trad
William's Racism Comment Is Criticism of Government but 'He Feels Strongly'
Prince William condemned a 2018 British immigration scandal in his most political comments yet after seeing racism firsthand at football matches, a royal author told Newsweek.
The Duke of Cambridge criticized the U.K. government over the Windrush Scandal, which saw the Home Office wrongly deport Caribbean people who had been invited to Britain generations earlier following World War II.
The government has paid or offered £41 million ($50 million) in compensation to victims, according to an announcement on its website in January 2022.
William not only condemned the way the Caribbean community was "profoundly wronged" but added that "discrimination remains an all too familiar experience for Black men and women in Britain in 2022."
It comes after he was heavily criticized during an ill-fated tour of the Caribbean, set to the back drop of protests calling for slavery reparations.
Prince Harry and Meghan Markle's interview with Oprah Winfrey and its allegations of racism also loom large over the royal family more than a year later.
Sussex fans are always quick to point out the royals did not speak out against negative British media coverage of Meghan that they argue was racist.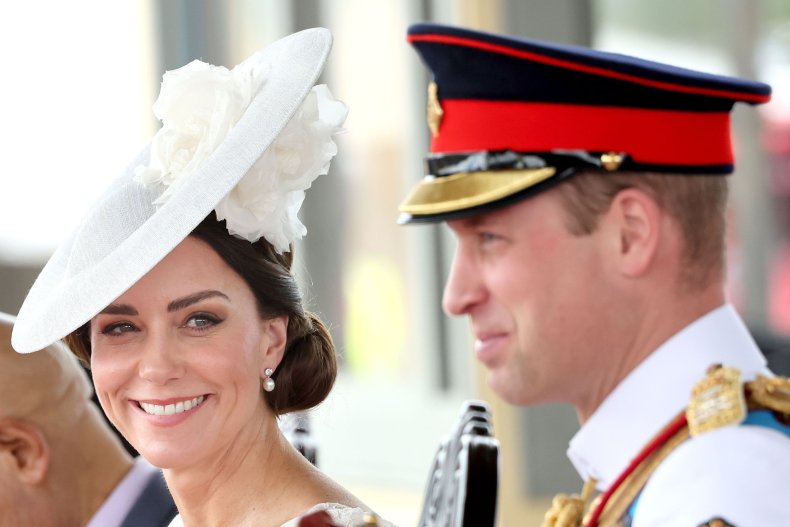 Royal Commentators React to Prince William's Immigration Comments
Ingrid Seward, author of Prince Philip Revealed, told Newsweek: "Prince William does go to a lot of football matches. I've only ever been to one once and I have to say I was horrified at the streaks of racism and everything else.
"I would imagine that William has heard enough himself to be able to make that comment.
"I think this does sound like a criticism of the government. He's put himself out there, William. He feels strongly and he's prepared to say it."
She added: "I think this is a maturing of his opinions more than a change. I think he's always had very strong opinions, but he's matured enough to feel confident enough to voice them."
Robert Jobson, author of biography William at 40, told Newsweek: "This shows his determination to speak clearly and effectively on issues that really matter to people. He is not somebody who holds back but speaks from the heart, showing his depth of compassion and empathy with his future subjects.
"I think most people would agree with the comments and the government climbed down and the payout shows he is in tune with what the majority think."
The Windrush Scandal
The Windrush generation came to Britain between 1948 and 1973 to help fill shortages in the work force after World War II and played a significant role in rebuilding the country.
However in 2012, the Conservative government introduced a "hostile environment" policy, which sought to make it difficult for undocumented migrants to remain in Britain.
An article by the Joint Council for The Welfare of Migrants read: "It aimed to make the U.K. unlivable for undocumented migrants and ultimately push them to leave.
"Because many of the Windrush generation arrived as children on their parents' passports, and the Home Office destroyed thousands of landing cards and other records, many lacked the documentation to prove their right to remain in the U.K.
"The Home Office also placed the burden of proof on individuals to prove their residency predated 1973."
Prince William Denounces Racism
The duke was not afraid to name-check the difficult tour of Belize, Jamaica and the Bahamas, which he went on with Kate Middleton in March.
There were awkward pictures of them greeting children through the holes in a wire fence, or parading in a colonial-era Land Rover, while protesters took to the streets to demand an apology for slavery.
William said "every part of British life is better for the half a million men and women of the Windrush Generation" as he unveiled the National Windrush Monument, on Wednesday.
William added: "This is something that resonated with Catherine and me after our visit to the Caribbean earlier this year. Our trip was an opportunity to reflect, and we learnt so much. Not just about the different issues that matter most to the people of the region, but also how the past weighs heavily on the present.
"Sadly, that is also the case for members of the Windrush Generation who were victims of racism when they arrived here, and discrimination remains an all too familiar experience for Black men and women in Britain in 2022.
"Only a matter of years ago, tens of thousands of that Generation were profoundly wronged by the Windrush Scandal. That rightly reverberates throughout the Caribbean community here in the U.K. as well as many in the Caribbean nations."
For more royal news and commentary check out Newsweek's The Royal Report podcast:
Cet article est traduit automatiquement. N'hésitez pas à nous signaler s'il y a des erreurs.